The CVA Academy naturally fits in with Group CVA values, as a modern academy where fostering of mutual exchanges is the base of know-how enhancement.
CVA Academy is an international, professional network of experts. It is dedicated to the creation of original training solutions, adapted to each specific context.
Resolutely active pedagogy, focused on promoting the value and participation of each attendant
Constant adaptation to client needs and constraints 
Proactive HSE evaluation and management
For training courses in France, or for a financial support by your financing organization : CVA Engineering, CVA group's entity, is a QUALIOPI certified training organization.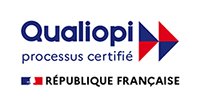 La certification qualité a été délivrée au titre de la catégorie d'action suivante :
ACTIONS DE FORMATION